Unaccompanied Minor Flight Details
If you are a parent who wants their kid to fly alone as an unaccompanied minor, there are some necessary steps you should take to ensure your child's safety. Fareobuddy has compiled a list of things you must know if you plan to let your child fly solo. Different airline rules may apply to your child to make them eligible for a ticket under unaccompanied minors. In addition, for every unaccompanied minor, the airline offers some services to avail mandatorily. It includes services like escorting to the flight to make sure the process is smooth.
What are the conditions that apply to an unaccompanied minor?
An unaccompanied minor is a child between the ages of 5 to 18; who travels without the supervision of an adult, guardian, or parent.
Do unaccompanied minors need to show an ID to fly?
Usually, an unaccompanied minor does not require an ID to be shown at the airport. But the adult who is escorting the child to the airport must carry a valid government authorized ID to ensure that the unaccompanied minor boards the flight.
Am I essentially required to book under unaccompanied minors? My child is grown up and is capable of navigating on their own.
If your child falls under the age of 5-12 years, and is traveling without any adult supervision then you will have to book them under the unaccompanied minor category. If your child falls under the age bracket of 13-17, then the unaccompanied minor service is optional. In this case, you hold the complete responsibility of your child, and no liability is levied on FareObuddy or the flight supplier for any loss or harm.
What is the airfare to book a flight for an unaccompanied minor?
The airfare for a reservation of an unaccompanied minor varies depending on various factors, including age, destination, and origin of the flight. Some airlines charge a fee per child, whereas some of them allow multiple children to travel together under one single fee.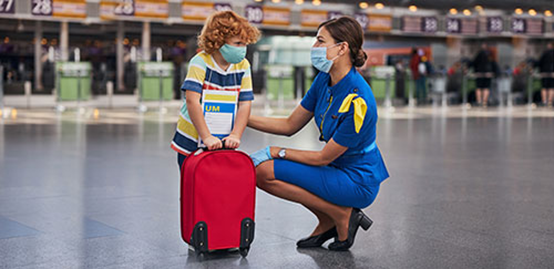 What are the requirements to complete the booking of an unaccompanied minor?
To complete the booking of an unaccompanied minor on FareObuddy, you are required to call us on 1-631-309-0576 and speak to our customer care agent, who will guide you through the entire process of booking completion. To complete your booking, the agent requires the adult making the booking to share the age, name, and other relevant information of the child for whom you are booking. Once the details are complete and the payment is made, the booking holder will receive a special pass that allows them to go through the security point and escort the child to the airline staff. Once the unaccompanied minor is handed over to the airline staff, they take the child to the flight boarding.
What are some popular airlines that offer flight tickets for Unaccompanied Minors?
Some of the major airlines enlisted on FareObuddy offer the unaccompanied minor service. It includes Frontier Airlines, American Airlines, United Airlines, JetBlue, and more. Usually, these airlines do not allow unaccompanied minors to travel on connecting flights. Some airlines allow unaccompanied minors only on domestic flights.
How can I make a booking for an unaccompanied minor on FareObudy?
How can I make a booking for an unaccompanied minor on FareObudy? To make a booking for an unaccompanied minor with FareObuddy you may call our Contact Center. Our travel experts will assist you with the booking and get in touch with you for the complete booking details.
To book with us,

1-631-309-0576
or
sales@fareobuddy.com